Are you a business owner looking to grow your small business? Are you overwhelmed? Not sure what to tackle first? Here are some articles that we have assembled to help our small business clients and service professionals market and grow their business.
If you are struggling to stand out from your competition and attract the clients you want or NEED… call Wedgewood Graphic Design. Whether you need logo and identity design, printed marketing materials, a website (new or redesign), social media branding or trade shows materials… We can help you tackle your marketing to-do list! Call Wedgewood Graphic Design today at 603-817-3626.
We help with small business branding for clients locally in NH including Portsmouth, Dover, Rochester, Exeter, and greater Manchester. But, just because we are in NH doesn't mean we can't assist clients nationwide. Call Wedgewood Graphic Design today to see how we can help your small business grow!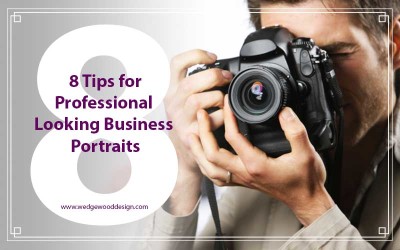 We all want our small business to be a success and getting a professional portrait or head shot is certainly a "must-have"… Keep in mind that business portraits for your or your employees ARE a visual element of your brand. Over the years, I've seen it all… the good,...
Check out some resources that may be helpful for your business