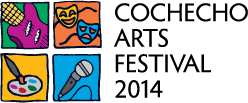 "Wedgewood graphic design is thrilled to be part of the Cochecho Arts Festival Committee and the 2014 Branding Partner for the event. It's a great event and I'm proud to support the arts in our community" said Amy Spainhower, Principal and Creative Director.

Wedgewood was among the dozens of local sponsors that participated in a press conference to kick off the festival's 28th season. With more than 25 live performances in the lineup for the 2014 season of the Cochecho Arts Festival, there's something for everyone in event offerings. The festival runs July 9 through August 22.

To read more about the kick-off press conference here

For the festival line-up and information click here.