The first impression is the most important one especially to new or prospective customers. Our print design and custom brochure solutions will power your business to become more attractive, successful and competitive. Wedgewood will make your business or organization shine by creating a professional, unique brand for your business. We will ensure your brand and message is delivered clearly and concisely.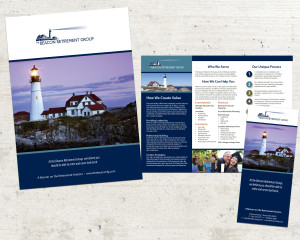 The award winning design team is always ready to be challenged with new and exciting print design and custom brochure projects. You can trust our experience to get you a look and feel that will bring you the desired results.
Print-based graphic design solutions includes:
Custom Brochures (custom trifold brochures or saddle-stitched boklets)
Rack Cards
Sell Sheets & Case Studies
Flyers & Posters
Newsletters
Whitepaper
Annual Reports
Packaging
Although our core business is design, Wedgewood is pleased to provide the finished product for our design clients. If you aren't familiar with the ins and outs of print production, let our experts manage the printing process for you… Rest assured you won't have to be the middle man! Over the years we have formed relationships with a variety of print houses and it's our experience that each print house has its own niche and specialty. We can help guide you to the right printer for each individual project to make sure your needs are met in the most cost effective manner.